TV & Press
Ambasciata d'Italia celebra alla Library cucina italiana
Francine in Italy
Un Vulcano In Cucina: Francine Segan
Novembre 2015
A Tavola
Food Star Americana
Aprile 2015
Bologna Today
L'enogastronomia ferrarese.. a stelle e strisce
Aprile 2015
Estense.com
Francine Segan conquistata dai sapori di Ferrara
Aprile 2015
Estense.com
Tour lungo la via Emilia per una stella della cucina Usa
Aprile 2015
Estense.com
Il tradizionale 'coccetto' conquista anche New York
A Fanano era presente la giornalista Francine Segan per un reportage(pdf)
Aprile 2015
di Walter Bellisi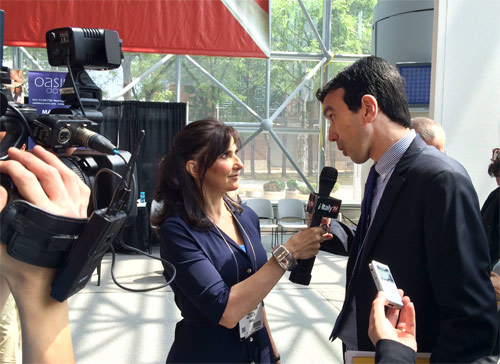 Italia amore mia (pdf)
Papillon 58, invierno 2009/2010
di Francine Segane
La Cucina Italiana in America... (pdf)
Papillon 56, primavera/estate 2009
di Sarah Scaparone
La giornalista americana affascinata dalle bellezze e dalla cucina del territorio (pdf)
il Piccolo
N.Y.C. capitale Usa del cioccolato (pdf)
La Stampa
Piero Celani: "Il Piceno sbarcherà a New York" (pdf)
Riviera Oggi
Francine on TV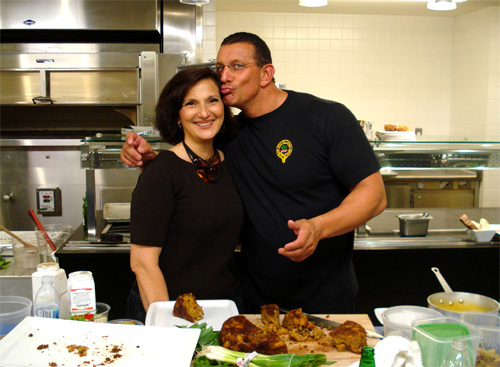 Francine è apparsa in numerosi programmi televisivi nazionali, tra cui il Today Show ed Early Show e tanti per PBS, il Food Network e l'History, Sundance e Discovery.
Lei è la conduttrice della famosa serie settimanale di NYC i-italy TV "Americans in Love with Italy", dove intervista le celebrità sulla loro passione per l'Italia. F. Murray Abraham, Betty Buckley, John Patrick Shanley, Eric Asimov e Michael Tucker sono alcuni degli ospiti che sono apparsi nel suo show.
Food Network's DINNER IMPOSSIBLE
(Depending on your internet connection you should be able to play the video when the pre-roll reaches 10%)
YouTube TV Links
Francine in Emilia-Romagna
Francine in Print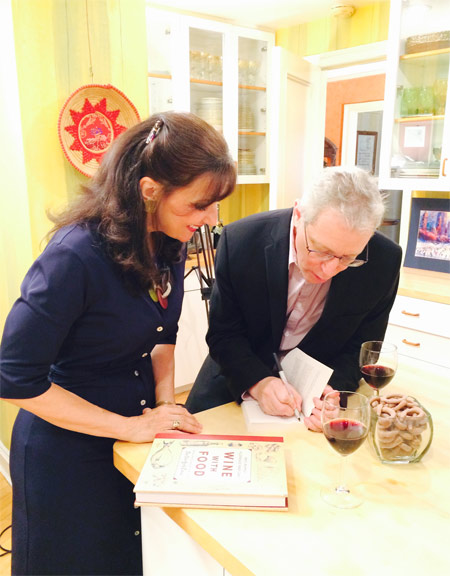 March, 2011
FOOD FOR THOUGHT: Aphrodesiacs are this food historian's bread and butter » MORE (pdf)

December, 2011
THE SWEET SIDE OF ITALY: What pops into your head when someone mentions Italian desserts? Tiramixu? Cannolis? Gelato? For Francine Segan, it's lemon-cornmeal cookies, yogurt semifreddo with radicchio marmalade and sweet ricotta crepes. » MORE (pdf)

April 2, 2004
"Ms. Segan, like some historically minded chefs and cookbook authors, is willing to sacrifice some authenticity for popular appeal. In a recipe for Cornish game hens with sage she instructs readers to use an oven rather than boil the meat in a cheesecloth. She also substitutes marjoram for the herb hyssop, popular in the Tudor era but hard to find in the U.S. these days.
Sometimes it takes more than switching a few spices to save a dish from the culinary compost heap. In her recipe for "courage tart," a sweet-potato-and-apple pie widely used as an Elizabethan aphrodisiac, Ms. Segan excluded sparrow brain. And she decided against a chapter on how to cook "head of beast."
August 13, 2004
"Let the Games-and the eating of great Greek food- begin with Francine Segan's new book The Philosopher's Kitchen: Recipes from Ancient Greece an Rome for the Modern Cook...recreating the cuisine of the ancient Greeks and Romans helps us connect in some small but wonderful way to their time."

Saturday, May 8, 2004
"It was hard to miss the peacock in the ballroom of the Pierre Hotel…but the main attraction on Monday night…was the food, all updated versions of Elizabethan recipes by Francine Segan, author of Shakespeare's Kitchen: Renaissance Recipes for the Contemporary Cook (Random House, 2003) and the culinary advisor for the evening."

August 18, 2004
"Author Francine Segan turns a neat trick. She takes cursory recipes from ancient Greece and Rome and makes them vibrant and cookable. Segan's recipes are excellent: Simple, sophisticated and delicious. Each of the four I tried was a keeper."

"Ms. Segan...exudes the warmth, personality and energy of your really funny next door neighbor keeping you relaxed and entertained throughout her presentation. ... Imparting knowledge along with the humor...." » MORE